123 Read 2 Me" is an organization that collects thousands of used children books, stores them in a warehouse , then distributes them free of charge to children.
The founder of 123Read2Me, Melinda Shelley understands that babies and children need books to have a real chance in life. Many families are finding it difficult to assess books for their children, with schools having limited supplies and the cost of purchasing books are out of reach for many families.
Ms Shelley sought the help of the Blackburn Lions Club to find a permanent warehouse for sorting and despatch of books.  The books are currently stored in a temporary warehouse and Melinda has asked that we spread the word to find something more permanent.
Go to their website here to find out more about 123Read2Me and how you can become involved.
We are a non-profit, university student-run organisation that offers free educational support to disadvantaged high school students in Melbourne, Victoria.  Our mission is to empower more disadvantaged students and we need your help.
Our organisation was started in 2006 by Emil Kogan, with a group of other Monash University students. We obtained Deductible Gift Recipient (DGR) status in 2009.  Due to the success of our Monash University chapter (South East), we established our University of Melbourne chapter (North West) in 2016.
Our main focus is on providing students from refugee, asylum seeker, recent migrant and low socioeconomic backgrounds with free tutoring. We also provide textbooks, calculators, stationery and other items to students in need.
We are calling out to thoughtful individuals who want to share their knowledge and aptitude to become tutors and lift the learning abilities of disadvantaged students around Melbourne.
We also seek your financial support.  Every donation makes a difference in a student's life. We are extremely grateful for every support and assistance we receive from our community.
Your donations will go towards strengthening Embrace Education's impact, such as tutor recruitment and training, coordinating the programs and helping supply resources to students and tutors.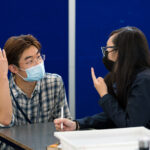 Anyone interested in tutoring or sponsoring Embrace Education  is invited to contact:
Jack Petereit, President – South East Chapter
Email:  president.monash@embrace-education.org;
enquiries@embrace-education.org
Mobile: 0426210558